Welcome to September's local housing market update.  For the past 12 months we have been reporting what has been happening in Lancaster,  however, due to numerous requests, we have decided we should do the same for Morecambe.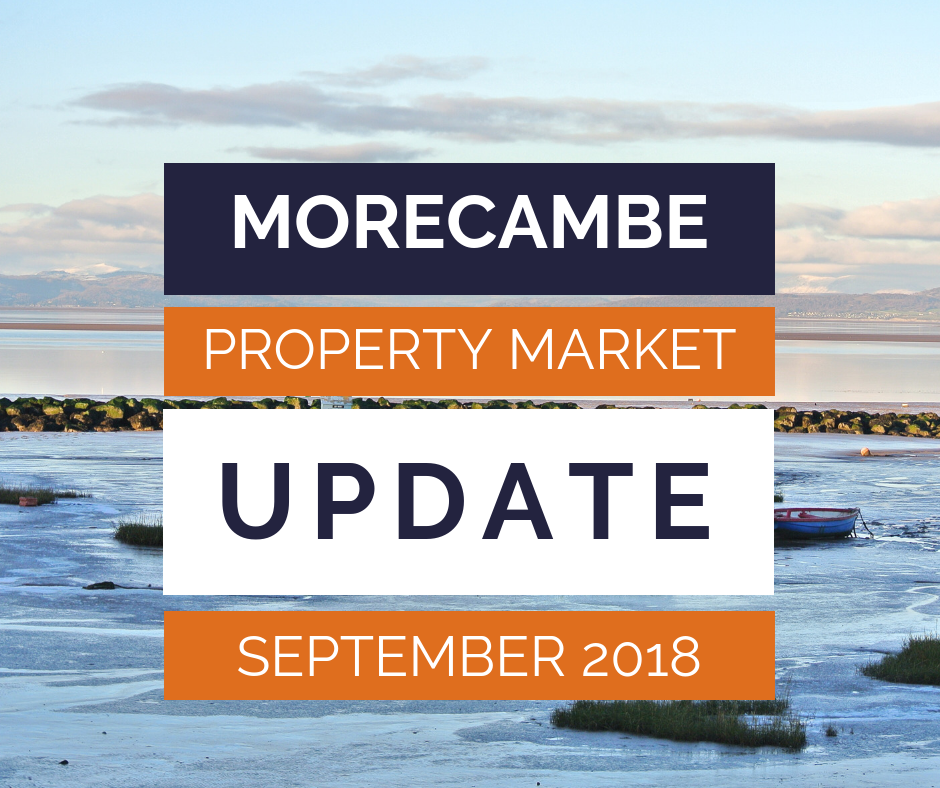 The Morecambe housing market is actually performing very well.  If you read our Lancaster property,  buying activity dropped in the LA1 year on year, however, it is holding strong in Morecambe.   Could a combination of the Bay Gateway and positive, hopeful news about the proposed future investment in Morecambe be having a positive effect?   Across the country, the market is being reported at subdued.   They obviously haven't chatted with us!
In September, 132 new properties hit the market for sale.  Worryingly though there were 96 price reductions,  24 of which were made by one particular agent.  The average price reduction in September was just over 9% of the asking price.   This is a concern – be careful of estate agents with over-optimistic valuations!  There have now been 599 properties so far this year that have reduced their asking price in Morecambe.
Here is what actually happened in Morecambe ( LA3 and LA4 ).  All of the data is sourced from Rightmove and Zoopla.
How many houses actually sold in September in Morecambe?
In September 2018, 85 properties sold ( SSTC ).  It was an even split between the two postcode districts with 42 sales in LA3 and 43 sales in LA4.  This was 3 sales less than in September 2017 and 1 sale less the month previous.   The market is showing to be steady.
Septembers's breakdown is as follows
Up to £100,000           27 properties sold
£100,001 – £150,000   35 properties sold
£150,001 – £200,000   12 properties sold
£200,001 – £250,000   8 properties sold
£250,001 +                  5 properties sold   ( 4 of these were in LA4 , all were under £300,000)
Are there any notable changes from 12 months ago?
In September 2017, there were only 48 property sales under £150,000.  This year that figure has jumped to 62 properties sold.  It is a huge jump – almost a 30% increase.  The question is why?  We've even had a small interest rate increase.  However, there are two trains of thought.  One is the stamp duty changes designed to help first-time buyers.  The other is the number of buy-to-let investors looking in the area and this goes back to the now open Bay Gateway and other investment that is happening in the area.   We really are bucking the national trend with this!
What type of property sold?
I always like to see what type of homes are selling.  30% of all the property sales in Morecambe in September were semi-detached homes.   I'm surprised though to discover only 4 detached homes sold.  Could this be because of the amount of new build in the area?   Can you believe 3 of these 4 sales, were on Grosvenor and Fairfield Park – close to the bay gateway and perfect for commuters.
Sales by house type
Detached               4  ( down by 60% from 2017 )
Semi-Detached      26
Terrace                   23
Flats / Apartments   16 ( up by 100% on 2017 )
Bungalows  14
Park Homes  2
Sales by area
I always find this breakdown fascinating.  It is such an equal split across Morecambe with no clear area outperforming others.  Bay view homes always sell well and are in high demands – 5 apartments sales at Sandylands highlights that!
LA3 1  14 (5 were apartments at Sandylands)
LA3 2  17 (5 bungalows)
LA3 3  11 (3 were detached)
LA4 4  16  (8 were semis)
LA4 5  14 (7 were terraces)
LA4 6  13 (5 were apartments )
16 different estate agents were involved with the 85 property sales across Morecambe in September.  A great success story for us was a detached home on Grosvenor Park.  It was on the market at £240,000 and we found a buyer for it in just 2 weeks.  In fact, all of our Morecambe sales in September were semi-detached and detached homes priced above £150,000 ( to be fair we run out of bungalows such as been the high demand there, therefore we didn't have any left to sell!)
If you would like to keep up to date with happenings in the Morecambe Housing Market, check out our website at www.jdg.co.uk or just email me at darren@jdg.co.uk.  At JDG we are here to help.
Ps.  If you would like to know what your home is worth why not try out out a quick online valuation tool.  It takes less than 60 seconds.  It is not as accurate as having us out, but it will give you a rough guideline.  Try it out and let me know what you think!   Click below to give it a try!